Elon Musk says Tesla tweet was genuine in fraud case
Elon Musk has told a court that he was trying to do the "right thing" when he issued a tweet claiming he had enough backing to take Tesla private.
The boss of the electric car company is on trial after investors claimed the 2018 tweet cost them millions of dollars when a deal did not go ahead.
Mr Musk claims that he had met with a Saudi Arabia sovereign wealth fund which indicated support for a deal.
But he admitted he never discussed a specific funding amount.
Mr Musk is accused of defrauding investors after he tweeted on 7 August 2018 that he had "funding secured" to take Tesla private at $420 (£341) per share, and that "investor support is confirmed".
https://platform.twitter.com/embed/Tweet.html?creatorScreenName=BBCWorld&dnt=false&embedId=twitter-widget-0&features=eyJ0ZndfdGltZWxpbmVfbGlzdCI6eyJidWNrZXQiOltdLCJ2ZXJzaW9uIjpudWxsfSwidGZ3X2ZvbGxvd2VyX2NvdW50X3N1bnNldCI6eyJidWNrZXQiOnRydWUsInZlcnNpb24iOm51bGx9LCJ0ZndfaG9yaXpvbl90aW1lbGluZV8xMjAzNCI6eyJidWNrZXQiOiJ0cmVhdG1lbnQiLCJ2ZXJzaW9uIjpudWxsfSwidGZ3X3R3ZWV0X2VkaXRfYmFja2VuZCI6eyJidWNrZXQiOiJvbiIsInZlcnNpb24iOm51bGx9LCJ0ZndfcmVmc3JjX3Nlc3Npb24iOnsiYnVja2V0Ijoib24iLCJ2ZXJzaW9uIjpudWxsfSwidGZ3X3Nob3dfYnVzaW5lc3NfdmVyaWZpZWRfYmFkZ2UiOnsiYnVja2V0Ijoib24iLCJ2ZXJzaW9uIjpudWxsfSwidGZ3X2NoaW5fcGlsbHNfMTQ3NDEiOnsiYnVja2V0IjoiY29sb3JfaWNvbnMiLCJ2ZXJzaW9uIjpudWxsfSwidGZ3X3R3ZWV0X3Jlc3VsdF9taWdyYXRpb25fMTM5NzkiOnsiYnVja2V0IjoidHdlZXRfcmVzdWx0IiwidmVyc2lvbiI6bnVsbH0sInRmd19taXhlZF9tZWRpYV8xNTg5NyI6eyJidWNrZXQiOiJ0cmVhdG1lbnQiLCJ2ZXJzaW9uIjpudWxsfSwidGZ3X3NlbnNpdGl2ZV9tZWRpYV9pbnRlcnN0aXRpYWxfMTM5NjMiOnsiYnVja2V0IjoiaW50ZXJzdGl0aWFsIiwidmVyc2lvbiI6bnVsbH0sInRmd19leHBlcmltZW50c19jb29raWVfZXhwaXJhdGlvbiI6eyJidWNrZXQiOjEyMDk2MDAsInZlcnNpb24iOm51bGx9LCJ0ZndfZHVwbGljYXRlX3NjcmliZXNfdG9fc2V0dGluZ3MiOnsiYnVja2V0Ijoib24iLCJ2ZXJzaW9uIjpudWxsfSwidGZ3X3ZpZGVvX2hsc19keW5hbWljX21hbmlmZXN0c18xNTA4MiI6eyJidWNrZXQiOiJ0cnVlX2JpdHJhdGUiLCJ2ZXJzaW9uIjpudWxsfSwidGZ3X3Nob3dfYmx1ZV92ZXJpZmllZF9iYWRnZSI6eyJidWNrZXQiOiJvbiIsInZlcnNpb24iOm51bGx9LCJ0ZndfbGVnYWN5X3RpbWVsaW5lX3N1bnNldCI6eyJidWNrZXQiOnRydWUsInZlcnNpb24iOm51bGx9LCJ0Zndfc2hvd19nb3ZfdmVyaWZpZWRfYmFkZ2UiOnsiYnVja2V0Ijoib24iLCJ2ZXJzaW9uIjpudWxsfSwidGZ3X3Nob3dfYnVzaW5lc3NfYWZmaWxpYXRlX2JhZGdlIjp7ImJ1Y2tldCI6Im9uIiwidmVyc2lvbiI6bnVsbH0sInRmd190d2VldF9lZGl0X2Zyb250ZW5kIjp7ImJ1Y2tldCI6Im9uIiwidmVyc2lvbiI6bnVsbH19&frame=false&hideCard=false&hideThread=false&id=1026872652290379776&lang=en-gb&origin=https%3A%2F%2Fwww.bbc.com%2Fnews%2Fbusiness-64384278&sessionId=5d4550d6e81e086b2d2fb18dfc4c73eb703c33fa&siteScreenName=BBCWorld&theme=light&widgetsVersion=aaf4084522e3a%3A1674595607486&width=550px
The BBC is not responsible for the content of external sites.View original tweet on Twitter
The tweet sent shares in Tesla soaring, but weeks later they fell back when Mr Musk said the plan was no longer going ahead, causing a significant backlash for the billionaire.
He was forced by the Securities and Exchange Commission (SEC), the US regulator, to step down as Tesla's chairman and had to have any tweets related to Tesla vetted by an independent committee.
He and Tesla were also fined $20m each to settle a claim by the SEC that he had committed securities fraud.
At the jury trial in a San Francisco court on Tuesday, Mr Musk and his attorney argued that the deal was seriously considered for about two weeks, with discussions with major investors and other firms.
Mr Musk said he eventually scrapped the plan after his discussions with smaller investors led him to believe they would prefer that the firm remain publicly traded on the stock market.
"I felt it was important to be responsive to their wishes," he said, later citing a letter he received from Cathie Wood, chief executive of Ark Investment, a firm that manages billions of dollars worth in assets.
Mr Musk said he thought sharing his consideration of the potential buyout was the "right thing" to do because he was worried an article in the Financial Times about Saudi Arabia's stake in the company would put ordinary investors at a disadvantage.
"I thought I was doing the right thing," he said on Tuesday, his third day testifying in the case.
"I was concerned when receiving the Financial Times article that the information had leaked and that some investors would be aware that I was considering taking the company private and this would disadvantage other investors, especially small shareholders."
On Monday, Mr Musk told a court in San Francisco that he had met with people from Saudi Arabia's Public Investment Fund on 31 July, 2018.
He said that while a price for taking Tesla private was not discussed, he claimed that the representatives from the fund made it clear they backed a deal.
Mr Musk claimed Yasir Al-Rumayyan, the fund's governor, then appeared to backpedal on the pledge.
"I was very upset because he had been unequivocal in his support for taking Tesla private when we met and now he appeared to be backpedaling," he said.
'Not a joke'
Mr Musk was also questioned about how he decided on a price of $420 a share and whether it was a reference to marijuana.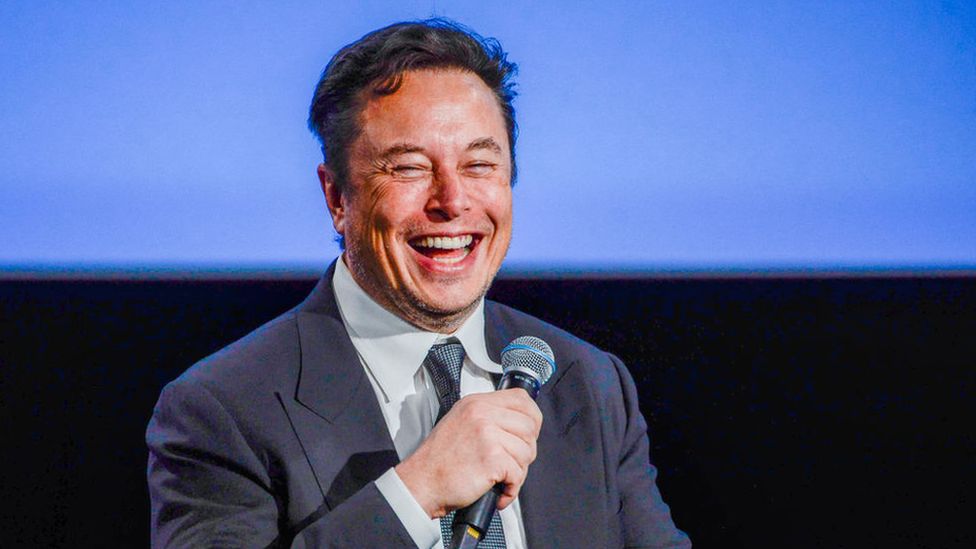 In American counterculture, the significance of 420 is said to have come from a group of students in California in the 1970s who used to meet after school at 4:20pm to smoke and to search for a patch of cannabis plants.
Later on, 20 April became a day when thousands of people gathered to celebrate marijuana. In the US, dates are written with the number of the month first, then the day – in this case 4/20.
Mr Musk, who has smoked cannabis in public but claimed not to be a regular user, told the court: "420 was not chosen because of a joke; it was chosen because there was a 20% premium over the stock price."
He added that there was "some karma around 420", though "I should question whether that is good or bad karma at this point."
Mr Musk, who bought the social media platform Twitter for $44bn last year, had told the court on Friday that he did not think that his tweets had affected Tesla's share price.
"Just because I tweet something does not mean people believe it or will act accordingly," he told jurors.
'Off his rocker'
Mr Musk will continue testifying on Tuesday. He had attempted to have the trial moved from California to Texas due to concerns that a jury would be biased against him due to media coverage of the businessman.
Following his takeover of Twitter, which is headquartered in San Francisco, thousands of staff lost their jobs.
"We don't think we can get a fair trial in this district, period, full stop," said Alex Spiro, a lawyer for Mr Musk.
Mr Spiro claimed: "The media reports are character assassinations."
The request was denied by Judge Edward Chen.
During jury selection, potential jurors expressed a wide range of opinions about Mr Musk. Some described him as "smart" and a "genius".
Another said he was "a little off his rocker".
One woman suggested that "he is not a very likable person,"
When asked by the judge whether that meant she would not be impartial towards him, the woman responded: "A lot of people are not necessarily likable people…. sometimes I don't like my husband."